CinemaRecord, our quarterly magazine contains a good mix of articles, which includes cinema histories, industry personalities, technical items, as well as photographs of theatres of the past.
Each edition has a Newsreel section, which contains information on the latest happenings in the industry at that time.
Index of CinemaRecord articles - Issue 1 - 50
CLICK THE COVER IMAGE TO READ EACH EDITION ON LINE
ISSUE 1 · January 1994
Carlton Moviehouse · Rod How

Film Theatres of Ballarat · Graham Smythe

The Garfield Picture Theatre · Gerry Kennedy

New Theatre For Frankston · Fred Page

Cinemas of Warracknabeal · Brian Miller

Castlemaine Theatre Royal · Denzil Howson

Swanpool Cinema · Gerry Kennedy
ISSUE 2
Orient Theatre Heidelberg · Fred Page

Globe Theatre Winchelsea · Garry Saunders

Chelsea Cinema Melbourne · Trevor Walters

Southern Hampton & Roxy Sandringham · G Disney & V Tarrant

Cyclorama, Film Train & Empire Melbourne · Gerry Kennedy
ISSUE 3
Soldiers of the Cross · Denzil Howson

Omnimax · Peter O'Reilly

Regent Open Days Moomba Weekend · Ian Williams

Regent Tours Incorporated? · Ian Williams

The Opening of Kino 3 in Collins Place

Regent and Plaza (Postscript) · Bertie Bertram

Ivanhoe Theatre · Fred Page

Theatres of Warrnambool · Gerry Kennedy:

The Town Hall / Warrnambool Regional Performing Arts Centre

Mansions Theatre

Oddfellows Hall / Star Pictures / The Plaza / The Palais

The New Warrnambool / Capitol Theatre

The Liberty Theatre

Shandon / Village Drive-In

St Kilda (Bioscope) Theatre · Peter Fogarty
ISSUE 4
What's in a Name? · Brian Miller

Ozone Mildura · Fred Page

New Mentone Theatre · Trevor Walters

Victory / National St. Kilda · Peter Fogarty

Moonee Ponds Theatre · Dr S Merrifield

Southern Cross Essendon - Part 1 · Ron Lambert

Union Hall / Paramount Ascot Vale · Ted Smith

Memories of the 'Silver Screen' · Alan B Bresnahan

The Centenary of Cinema - What are we Celebrating?
ISSUE 5
The Talkie Operator Explains · Ken Tulloch

Vegas Theatre / Sturt Cinema Ballarat · The Courier Ballarat

Cinerama: Super Movies of the Future

Memorial St Kilda · Peter Fogarty

Southern Cross Essendon - Part 2 · Ron Lambert

Going to the Pictures

Widescreen Glossary · Leonard Maltin
ISSUE 6
A Saturday Afternoon and Evening in Burwood - circa 1920 · Ven Houston

An excerpt from "A History of the City of Waverley"

St John's Theatre - Repat Hospital Heidelberg · Denzil Howson

Athenaeum Theatre Lilydale · Garry Saunders

Empire Theatre Brunswick · Alan Windley

A Short History of the Cinema · Author Unknown
ISSUE 7
Rotex/Were Street Theatre Montmorency · Fred Page

Dendy Theatre Complex Brighton · Brian Miller

Memorial Theatre Koroit · Gerry Kennedy

Auctioning Off Our Cinema Past · Brian Miller:

Waverley; Sun Yarraville; Plaza Chelsea

Broadway Elwood; Regent Thornbury; Plaza Oakleigh

News Year's Eve 1938 · Rod Cook

Hoyts Circle Theatre Preston · Rod Cook

Athenaeum Theatre Sorrento · Peter O'Reilly
ISSUE 8
Centenary of Cinema

Palais/Plaza/Cinema North Reservoir · David Kilderry

North Eastern Cinemas and Halls of Victoria · Gerry Kennedy:

Kilmore Astor; Seymour Regent; Seymour Sunset / Village Drive-In

Nagambie Mechanics Institute

Rushworth Shire Hall

Kyabram Plaza / Numurkah: Town Hall; Melba Theatre

Cobram: Melba Theatre; Kenric / Moonlight Drive-In

Tocumwal (NSW) Pavilion Theatre

Yarrawonga: The Grove Picture Gardens; Town Hall; Lakeside Drive-In

Corowa (NSW): Memorial Hall; Rex Theatre

Rutherglen Memorial Hall

Albury (NSW) Regent / Cinema Centre

Chiltern Star / Swanpool Cinema

Wangaratta: Amphitheatre; His Majesty's Open Air; Plaza / His Majesty's; Village / Orana / City Hall

Benalla: Regal; Drive-In
ISSUE 9
Theatres - What's in a Name? · Elizabeth Kumm:

20 Bourke Street, Melbourne: Brennan's Amphitheatre / National

Apollo / St James / Metro / Palace / Revival Centre / Metro

North Eastern Cinemas and Halls (additional info) · Stan Gunn

Regal Theatre Hartwell · Rod How

The Development of Movies - From Silence to Sound · Fred Page

West Side Story (Western Theatre West Brunswick) · Laurie Cunningham<

The Great Blank Screen Mystery · S P Rocket

Deluxe - Architecture Found (Hoyts Deluxe Melbourne) · Elisabeth Kumm

Lyric/Capri Shepparton: Part 1 · G Kennedy, A Stroop & M Purden
ISSUE 10
From The Family Album: Wolfe's Picture Co · Brian Miller

Birth of the Modern Talkie · Ken Tulloch

Sun Theatre Yarraville · Rod Cook

From Mechanics Institute to Multiplex - Albury/Wodonga · Denzil Howson:

Albury: The Mechanics Institute / Plaza / Civic; Theatre Royal / Royal Palais;

Hoyts Regent / Village Cinema Centre

Wodonga: The Melba Hall / Melba Cinema

Brisbane Re-visited Diary · Brian Miller

So You Think They Looked Similar! · Gerry Kennedy:

Designed by architects: H Vivian Taylor; H. Vivian Taylor Soilleux and Overend
ISSUE 11
Kyabram Plaza Theatre · M Purden & K Simmonds

More Moving Than Ever: Number of screens 1956 compared with 1995

The Family Album - continued · Brian Miller

Radio Cinema Barcaldine · John Polianakis

Oakleigh Drive-In · David Kilderry

Home Theatrette: Tatty Theatre

Brisbane Retrospective · Ian Hansen

Melton Cinemas · Gerry Kennedy

The Ghost That Won't Lie Down: Melbourne Regent Campaign · Ian Williams
ISSUE 12
Satellite Cinemas · Fred Page

Shepparton Lyric / Capri: Part 2 · Mike Purden:

Walter McMillan Circuit; Star Theatre; First Open Air Theatre; Etc.

Legion Hall; Paramount Palais / Astor; Lyric / Capri

St Judes/Little/St. Martins Theatre · Fred Page

The Continental Sound Film · Ken Tulloch

Wangaratta Cinema Centre · Mike Purden

Hoyts Windsor Theatre · Rod How

Researching Theatre History · Les Tod

Jim Walshe - Photophone Theatres · Mike Purden
ISSUE 13
Melbourne's (and Australia's) Centenary of Film Projection ·Fred Page

The Melbourne Regent WurliTzers · Julien Arnold

Plaza Theatre Bendigo · Mike Purden

Treading The Boards In Tassie · Denzil Howson

From Hand Painting to the Technicolor Process · Ken Tulloch
ISSUE 14
Tom and Jerry · Graeme Smythe

The Projectionist's Alphabet · H Brinsley-Farjohn

Star Newsreel Theatrette · Edward Lansdowne & Brian Miller

From 'Kero-Diascope' to 'Kinematograph' · Denzil Howson
Greater Union - Transformation 1976-86 · David Kilderry

Rex/Roxy/Cinema Charlton · G Edwards & G Kennedy
ISSUE 15
The Future of the Classic Cinema Elsternwick

Theatres on the Net · Ian Williams

Members On Tour - Sydney Theatres · Brian Miller
Hobart Re-Visited · Ian Williams

Yeppoon Film Theatre / Capricorn / Kavlon · Gerry Kennedy

'Movie Memories' · Cinepix - From My Scrap Book of Cuttings

3D Epitaph or Prologue?
ISSUE 16
Ararat - Stawell - Horsham Report · Wally Perkins
The Theatres of Horsham - Part 1 · Gerry Kennedy & Ian Ballinger:

Mechanics Institute Hall; Star Cinematographe; Town Hall / Picture Hall Victoria Buildings;

Soldiers Pictures; Horsham Theatre; Garden Pictures; Twentieth Century Theatre

The Australian Connection: Australian Actors · Denzil Howson

Home Theatrette: The Crest

Camden Theatre, South Caulfield · Gerry Kennedy, Ian Hansen & Brian Miller

Central Hall / New Central Theatre / Grosvenor Theatre, Melbourne · John Holloway

The Internet · Martin Powell
ISSUE 17
Hoyts Alhambra · Ann Westmore

Prahran Mechanics Institute

Theatres of Horsham - Part 2: Gerry Kennedy & Ian Ballinger:

The Horsham Theatre / St James / The Bowman Theatre / Horsham Entertainment Centre / Centre Cinemas

The Twentieth Century Theatre; The New Horsham Town Hall; Mota Vu Drive-In Theatre
Cinema Under The Stars: Drive-Ins · David Kilderry

Hamlet on the BIG Screen · Ralphe Neill

James Stewart

Lamarr's Legacy: Hedy Lamarr

VALE - A Lovable Genius: Gem; Kleesound; Son · Denzil Howson
ISSUE 18
Picture Show Man Cinema, Merimbula · Gerry Kennedy

Lyric Theatre Bendigo · Michael Purden

Central Hall Fitzroy · Melb Diocesan Historical Commission

IMAX - The Big Picture

Top 10 Dubious Cinematic Definitions ·

The Silent Sufferer: Emil Jennings · Denzil Howson

Flickers at the Town Hall: Castlemaine · Denzil Howson

Super 8 at the Carlton · Graham Smythe

Collingwood, Richmond, Northcote · James Foreman:

Thornbury Picture Theatre; The Lyric; The Regent; Plaza;

The Planet; The Austral; The Star; The Crown; Fairfield Park

Talkies at the Coburg Town Hall, 13 June 1930
ISSUE 19
Movies at the Regent - after 27 years! · Graham Smythe

Midland / Astor / Ararat Entertainment Centre · Gerry Kennedy

An Empire Strikes Back - With a Vengeance: Empire Theatre, Toowoomba Queensland · Denzil Howson

Projector Collector · Allan Osborne

Epping Multiplex 10 - Anderson Family Cinema

Hoyts Windsor Theatre · Brian Hunt & Trevor Walters

Home Theatrette: The Roxy

St Georges, Yarraville · Denise McGuire
ISSUE 20
Seymour: Regent Theatre; Town Hall Cinema

Nagambie: Mechanics Institute Hall

Mooroopna: West Side Performing Arts Centre

Numurkah: Mechanics Institute Hall; The Melba Pictures; Town Hall.

Cobram: Melba Twin Cinemas / Yarrawonga: Town Hall; Drive-In

Corowa: Rex Theatre / Rutherglen: Soldiers Memorial Hall; Town Hall

The Theatres of Box Hill · Gerry Kennedy:

Rialto / Recreation Hall; Regent / Lyric / Box Hill Theatre / Hall

Eastern Theatres / Box Hill Amusements / IMAX - Noel Kerr

Salvation Army Limelight Department · Peter Wolfenden

The New Melbourne IMAX Theatre · Noel Kerr

The Film Prayer

Cinerama Returns: New Neon Movie Theatre, Ohio Trevor Walters
ISSUE 21 · September 1998
Home Theatrette: The Bijou

Woomelang Theatres & Cinemas · Gerry Kennedy:

Woomelang Motion Picture Co-op; RSL Clubroom
Ken Lemmon - Projectionist · Brian Hunt & T. Walters

Confessions of an Assistant Operator · Greg Lynch

Nhill Cinemas · Gerry Kennedy:

The Theatre Royal; Royal Picture Theatre / Regent / Memorial / Memorial Community Centre

Early Daylesford Newsreel Unearthed
ISSUE 22 · November 1998
The Prince George Theatre, Brighton · Roger Seccombe

The Way They Were · John Holloway

Profile of CATHS Patron: Pete Smith

Film Fables, Fact and Fiction · Keith McDonald, Assistant Projectionist
ISSUE 24 · June 1999
In the Sticks: Early cinema in Melbourne's outer suburbs · Roger Seccombe

The Chelsea Theatre, Flinders Street, Melbourne · Trevor Walters

'Ring of Fire' Engulfs Roxy (home cinema) · Trevor Walters

The Lyceum Theatre, Bourke Street Melbourne · Trevor Walters

Val Morgan Cinema Advertising

Warning given to NZ cinema builders · Karyn Scherer

Speech given at NZ New Empire opening, Feb 1998
ISSUE 23 · March 1999
Frank Van Straten Receives Australia Day Honour

Tumut Montreal Theatre · Les Tod

Ode to an Usherette · Anonymous

Murrumbeena Public Hall / Argosy / Capri / Rex · Ken Tulloch

Collecting Still Pictures: Single Frames, etc. · Peter Wolfenden

Advert: MGS Infa Set / Sun Theatre
ISSUE 25 · August 1999
The Mechanics' Institutes · Catherine Milward-Bason:

Apollo Bay; Ballarat; Camperdown; Freeburgh; Lilydale; St Arnaud.

Film Fables, Fact and Fiction: Projectors · Peter Wolfenden

Australia's Film Production & Exhibition Industry · P Wolfenden

Does Anybody Want To See a Film?: Low Attendances · Rod Cook

Along Film Row (from The Australian Exhibitor Sept 1966)

Cleopatra / Paris Theatre · Trevor Walters

After The Applause Has Ended? Film Greats Remembered

Loyalty Theatre, Upper Ferntree Gully · Julie Ross

More Movie Cliches

Picture Theatres in the Westernport District · Bruce Bennett
ISSUE 26 · November 1999
Another Opening - Another Show! Capitol 75th Anniversary · Ian Williams

The Cowboy Code · Gene Autry

Hoyts New Glenhuntly · Gerry Kennedy & Brian Miller

The Recollections of a War-Time Lolly-Boy · Brian Miller

Recollections of Matinees at the New Glenhuntly · Gerry Kennedy

The Case of the Vanishing Eccentrics · Denzil Howson

The Astor - A Survivor · Ian Hanson & George Florence

Carnegie Theatre · Ken Tulloch

Carnegie Theatre Memories · Noel Kerr

David Silverman in Australia: Animation Artist · Noel Kerr
ISSUE 27 · February 2000
O'Halloran Theatres · Gerry Kennedy:

Balranald Theatre Royal; Swan Hill Town Hall; Deniliquin (NSW); Nyah West; Warracknabeal;

Dimboola; Nhill; Maryborough Paramount; Lake Boga; Regent Theatre Circuit

Drive-In Theatres: Swan Line at Beverford and Park Line at Kerang

Film Theatres of Gilgandra NSW · Gerry Kennedy:

Coronation Hall; first Australian Hall; Crystal Palace Hall, & Open Air;

second Australian Hall & Australian Pictures (Open Air); Western Monarch Theatre & Open Air

Home Theatrette: Bijou Rebuilding

Hollywood Actress: Hedy Lamarr

Recollections of a Movie Buff · Don Flowers

Arena Or Theatre: The business of live musicals · BRW/Cameron Hall

CATHS Patron: Philip Brady · Denzil Howson
ISSUE 28 · May 2000
Bendigo & Districts Tour · Brian Miller:

Daylesford: Town Hall; Rex; Castlemaine: Theatre Royal;

Maldon: Royal Theatre; Eaglehawk: Town Hall/Star Cinema

Bendigo: Capital Theatre - Regional Arts Centre; Cinemas;

Lyric Theatre; Plaza Theatre; The Royal Princess

The Bryson Cinema, Melbourne · Gerry Kennedy

Cohuna Theatres · Alan Windley:

The Cinema At Home · Roger Seccombe

Hoyts Cinema Theatre Richmond: Memories · Ian Baker

Glen Pictures, Rutherglen · Barry Deas

Lorne Theatre · Gerry Kennedy

Home Theatrette: Grosvenor

Funny by George: The George Wallace Story · Don Percy:
ISSUE 29 · August 2000
Victoria: Plaza Bendigo; Charlton Cinema; Star Cinema Portland

New South Wales: Silver City Cinema Broken Hill

South Australia: Peterborough Capitol Theatre; Hawker Institute Hall;

Adelaide - Greater Union; Metro; Regent; Her Majesty's (Princess/Tivoli);

Nova; IMAX; Wallis Cinemas; Academy Cinema City; Town Hall

Kangaroo Island Kingscote Council Hall; Victor Harbour Victa Cinema

Mount Gambier Odeon; Murray Bridge Lyric/Ozone

Hansen's Travelling Picture Show in Castlemaine

Civic Cinema/Civic Theatre Goondiwindi, Queensland · Gerry Kennedy

Prince Regent Theatre Sale · Gerry Kennedy

Regent Cinema Te Awamutu, New Zealand
ISSUE 30 · December 2000
Capitol Theatre Melbourne · Rod Cook

A Future Movie Mogul - Brendan Hawking · Gerry Kennedy

Bercy Cinema Melbourne · John Holloway

TOSA Plays At The Regent

Soldiers Of The Cross - Centenary · Colin J Daniels

The Edison Home Kinetoscope · Mike Trickett

Royal Princess Theatre Bendigo · Fred Page

Disaster At The Regent · Noel Kerr

Manly At The Movies · Ian Hanson

Saga In South Queensland / Warwick Theatres · Denzil Howson:

Killarney: Penn's Pictures; Paget's Pictures; Royal Hall; Charles Chauvel

Warwick: His Majesty's; King's Theatre; Warwick Town Hall;
ISSUE 31 · March 2001
The Albert Park Trio: Dux Theatre; Kinema Theatre; Park Theatre

Film Switching · Fred Page

Rushworth Shire Hall · Gerry Kennedy

Producers and Cinemas Stroll Up a Bland Alley · Lynden Barber

Montrose Public Hall Reflections · Noel Kerr

Paramount On Parade Revue: Letter from David O Selznick, 1929

Theatre Royal Christchurch New Zealand · Fred Page

A Day at the Theatre in 1952 · Noel Kerr

Hammers and Film Spools · Rod Cook

The Star Cinema Mansfield · Don Flowers

Perspecta Sound · Mike Trickett

Arthur Pyers - The Man Who Kept The Cinemas Going · Ken Tulloch

The Theatre Organ · Ken Tulloch
ISSUE 32 · Autumn 2001
The Westgarth Theatre. The Westgarth celebrates 80 years

Picture Gallery: Palais Theatre, St Kilda

Letters: 'Of Seats & Mice & Vagrants' by Kevin Brandum.

CATHS Central Victoria branch · Fred Page

Westgarth, West Preston Rivoli and Northcote Theatre Tour

North Eastern Tour · Gerry Kennedy:

Healesville Cinema; Alexandra Shire Hall; Mansfield Cinema.

Swanpool Cinema; Euroa Civic Theatre; Benalla Town Hall

Strathis (Stan) Raftopoulis MBE - A Movie Mogul · Gerry Kennedy:

Cosmopolitan Pictures; Greek cinemas in Melbourne, Sydney and Adelaide

The Westgarth Picture Theatre · Cameron Hall:
ISSUE 33 · Winter 2001
Front Cover Pic: Front of the Odeon Theatre and Times Theatrette

Corrections re Westgarth Theatre article - CR#31

Charlton Cinema; Longford Finale; Dromana Drive In; US $1 flicks;

Frankston multiplexes; New Anderson cinemas; Sun multiplex plans

Ararat Astor; Stawell Town Hall; Horsham Cinema Centre; Warracknabeal

Former Dal-Monte Warracknabeal; Murtoa Mechanics Hall Theatre

The Melba, Times, Liberty and Odeon Theatres · Fred Page

The Auditorium - Birth of a Showcase · Fred Page
Lola - An Australian icon - the historic Theatre Royal in Castlemaine
Reviews - cinema and theatre heritage resources
ISSUE 36 · Edition 2 - 2002
Facade of the Regent Theatre, South Yarra in 1937

Mildura Ozone · Gerry Kennedy

Richmond Theatre vs Richmond Cinema · Ron Lambert

The Rejuvenation of Her Majesty's Theatre: Frank Van Straten ·

Final Fade-out For South Coast Drive-in · Ross King

Lolly Boy Days (Palais Theatre St Kilda) · Robert Rogers

Echuca's Paramount Theatres · Fred Page

Confessions of a Poster Collector · Kevin Brandum

Personal memories & reminiscences of Australian theatres

Riddle of the Regal: re the closing date of the Essendon Regal

Picture Gallery: Hoyts New Malvern, Earls Court St Kilda.
ISSUE 35 · Edition 1 - 2002
Facade of the Regent Theatre, Little Malop Street, Geelong

The Longford Cinema · Brian Mier

Movies Return to the Plaza (Essendon) · Roger Seccombe

Ararat: Lyceum/Paramount · Gerry Kennedy

My Life in the Cinema (Kevin Adams - new 'CinemaRecord' Editor)

Cinema in Mansfield · Eddie Revell

Betty Larkins... "Burger Queen" (Northland and Coburg Drive-ins) · Gail Norman
CATHS-V on Tour - 'East of Eden' Weekend
Gentleman Lou - another reminiscence (Lou Somprou) · Ian Williams

Picture Gallery: 2 photos: Musicians at the Palais Theatre, St Kilda

Cinema Scrapbook: Old movie ads, Sept 30, 1937
ISSUE 34 · Spring 2001
Westgarth 80th celebrations a hit

The Theatre Royal, 232 Bourke Street, Melbourne · Fred Page

Brisbane Re-visited, June 2001 · Brian Miller
The Metro-Goldwyn-Mayer Trackless Train · Ross King

Hoyts shield presented to Essendon Plaza · Kevin Brandum

Lou Somprou - a personal memory · Ross King
Peter Wagstaff: - Cine Service · An interview by Denzil Howson

Book review: 'The Regent Theatre: Melbourne's Palace of Dreams'

Book: 'Cinemas Of Australia Via USA' By Ross Thorne, Univ of Sydney,

Video: 'Once Upon A Dream: The story of Sydney's Capitol Theatre'

Picture Gallery: Regal Theatre Essendon

Back Cover: Barclay Theatre, 10 Dec 1958: 'The Ten Commandments'
ISSUE 37 · Edition 3 - 2002
Front cover pic: Facade of Hoyts Regent at Gardiner

Gems from the CATHS Archives: An unknown auditorium.

Newsreel

The Mayfair Gardenvale

Cinema in Donald - from the first screening in 1897 until recent times

The Regent Gardiner

The Kalee Story -The history of this British Motion Picture legend -Warren Smyth

Marvellous Memories: Ross King's story " A Gypsy in the Bio Box"

Saturday matinees at the Valley Theatre Traralgon
ISSUE 38 · Edition 4 - 2002
Front cover pic: The sleek exterior of the Roxy Maidstone. Full story inside.

Flicks in Armstrong Street: The history of a Middle Park suburban theatre.

Balwyn Cinemas: CATHS visits to this 5 screen complex - including photos.

Auditorium Concert Hall: Originally catering for 2500, renovated a number of times and used by a variety of companies between 1919 and 1933.

The Lawrence Brothers: Pictures Were Our Business - part one. The Lawrence Brothers went on to develop the largest touring circuit in eastern Victoria while also buying or building 'hardtops'.

Protocol of a Theatre Date: Noel Kerr tells his secrets.

The Prince George Revisited: Home showman Ron Lowe tells how he became hooked on cinema.

Mystery Theatres - for the sleuths amongst us, there are three photos of unknown theatres.
ISSUE 39 · Edition 1 - 2003
Front cover pic: CATHS tour group in CHARLTON - Oct 2002.

CATHS Tour of Northern Victoria and the Riverina (NSW) October 2002.

Marysville Picture Theatre: Noel Kerr's write-up on this Family Theatre.

Sunbury's First Pictures: A chance find of a newspaper scrap leads to interesting research in local history by Peter Wolfenden.

Village Theatre Toorak: Gerry Kennedy brings his knowledge of theatre architecture into play contrasting the Village with its near neighbour, the Regent in South Yarra.

Lawrence Brothers Talkies - Part two. Alf and Joss build a circuit. Tom Atkinson's Life on the Road for the company.
ISSUE 40 · Edition 2 - 2003
CATHS Visit Her Majestys: A well supported theatre inspection.

The Armadale Picture Theatre: A sliding section of roof.

Cedric Ballantyne: Frank Van Straten talks about the man responsible for so many of the finest Cinemas, his life and his long productive career

Surrey: Surrey Hills: Based on research by Henry Jamieson, this story by Cameron Hall links to the previous edition.

Argosy Murrumbeena - Ken Newell. Citing 'Progress of a Garden Suburb' (The Herald, May 1931) Ken describes aspects of the life of this theatre up to the time of its demolition around 1980.

A Night At The REX ctd. A series of CATHS members memories captured on film. Photographs by Jenny Pollard and Jim Barrand.
ISSUE 41 · Edition 3 - 2003
Keeping Tabs. Will the front rag become a thing of the past? Bill Murdoch hopes not, although they seem to be an endangered species.

Roger Seccombe looks at the rising price of admission. Or is it rising?

The Apollo Glenferrie. A short life, revisited by Ian Smith. Originally known as Manresa Hall, the theatre boasted a Typhoon Ventilation System.

Red Roses Tonight. The Codewords for theatre staff to warn of imminent air raid activity. The actions and reactions of theatres during Britain's wartime period.

Lawrence Brothers - Another Perspective.
The Verne East Malvern. Ian Smith traces the history of this Lawrence re-launched theatre on Waverley Road at East Malvern.
Cheltenham Theatres - Brian Hunt looks at the Cheltenham Memorial Hall and its varied usage. A Martin Powell Photograph(2001) depicts the building as a Female Fitness Centre.
ISSUE 42 · Edition 4 - 2003
CATHS visits Andersons Cinemas. The Victoria Gardens, Richmond.

Red Roses Tonight (Conclusion). An Account of London Cinemas Under Fire, Quality Press 1948, concludes in this issue.

IVANHOE THEATRE. Gary ROSS traces the history of this Kaberry and Chard stadium style cinema.

Tim ARMSTRONG follows Gary with Personal Memories of the Hoyts IVANHOE, Theatre Plan Views are included in the article.

Memories of the Kings - Fred PAGE. Fred's memories commence in 1942 with a 3KZ broadcast from the 'King's Theatre.

A Salute to the State. This extensive set of articles with several contributors is supported by fourteen large photographs with very significant detail. A truly bumper issue.
ISSUE 43 · Edition 2 - 2004
The Amazing Brenograph.

'Projects Everything but the Motion Picture'

was the company slogan. The US made Brenkert Effects Machine is explained here.

The Roxy Theatre and the Cinema War in Bingara. A small town between Inverell and Narrabri, it had its share of highs and lows, with entrepreneurs going broke etc.

Cinerama at the HOYTS PLAZA, Melbourne. The brief life of this theatre's Cinerama system, from 1958 to 1970 is contrasted with some of its contemporary competitors.

The REGENT Fitzroy. 'From Nitrate to Television to Rocky Horror'. Internal and external architectural photos from the Ian Hanson Collection.

The CATHS ADELAIDE TOUR. This eight page article by Gerry Kennedy and Brian Millar, describes the many venues visited, with the available history and technical data. .
ISSUE 44 · Edition 3 - 2004
Bernie Halperin brings the

Fuller Influence in Australia

into focus in his article commencing with Brennans Amphitheatre in Melbourne.

Cinerama at the Plaza Ian Williams describes some of his experiences at the Plaza as a follow-up to the article in our last issue.
The Eclipse, Port Melbourne

. Opened on 25 October 1924 with a six piece orchestra to 'fit and follow each picture with beautiful music symbolic to the action on the screen'

Through the Porthole.

Peter Ricketts traces his childhood memories and a strong family association with the Fairfield Theatre, therwise known as the 'tin shed' led to a very long association with the industry for Peter.

The history of John Thiele's

Balmoral Regent Theatre is a fine follow-up to the CATHS visit in 2003. A number of John's fine photos enhance this article. A truly remarkable effort, in leafy Dernancourt.

Cameron Hall details the CATHS visits to the

Kino-Dendy

and

the Hoyts Cinema Centre

in 2004. The article is supported by photos, providing a current look at both venues.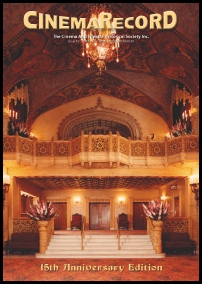 ISSUE 45
CATHS The First Fifteen Years. Inaugural Secretary, Fred Page documents the growth of the Society from beginnings in Oct 1989.

Ivanhoe Paradiso. A 1945 photo adds a sense of nostalgia to the piece. "Screen News, two pence each". Thus began a long and enthusiastic interest in cinema.

Australia's Movietone News. The Start Of Sound and the "Lost" Issues 1929 - 1930' is the subtitle of this article by well-known media researcher Chris Long.
Through the Porthole. Master Projectionists. Bill Newman. Clyde Simpson provides a closer picture of the one-time chief projectionist at the Metro, Collins Street.
The Road to Gisborne. Brian Hunt lets us look into the life and interests of a younger Ross King, Commencing as an apprentice radio mechanic, Ross continued his cinema interest working part-time as an assistant operator, in a number of theatres in the area.
A Waltz Around Melbourne. Ian Smith takes us for a memory jogging tour around the question - "Which film holds the record for the number of re-issues, each time into a different city theatre?" this article neatly closes a bumper Issue 45, celebrating fifteen years of CATHS.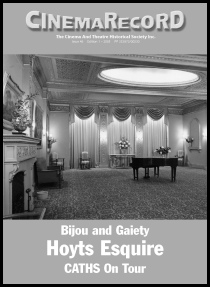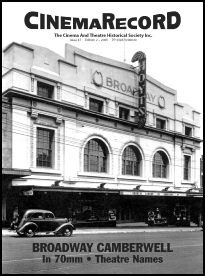 ISSUE 46
Palace of Wonders.

Frank Van Straten traces the Palace Hotel, with its two theatres.

After All There Is Only One Capitol

Ian Smith looks at the slogan used by this Swanston Street theatre.

CATHS Saturday Arvo Matinee.

'A 500 plus audience overflowed upstairs' to hear CATHS Patron, Peter Smith OAM, introduce the Saturday Arvo Matinee.

From Hoyts De Luxe and Hoyts Esquire.

Ian Smith and Eric White draw together the various materials for this informative article.

My Esquire Years. Gil Whelan shares some of his experiences in the industry, starting out as a fifteen year-old pageboy at Melbourne's

Regent

and

Plaza

theatres

.

Through the Porthole.

The third episode in this interesting series of Peter Ricketts' experiences growing up in and around the Fairfield theatre.

Just Switch It On.

Peter Wolfenden. 'Just plug it in and switch it on! That's about all most of us know about the electricity we use every day'.
ISSUE 47
Expansion plans by IMAX, Hoyts 50:50 ownership, Heritage Listing for Rivoli, Camberwell (Victoria), Albert Hall (Tasmania) Under Threat

Theatre Names - Cameron Hall - Some historical connections.
Regal Colombo - John Fitzsimons - A cinema jewel in Sri Lanka
The Lost World of 70mm - Ian Hansen - A history of 70mm projection in Australia
Give My Regards to the Old Broadway - Shane Moore - How Our Theatre, Camberwell (Vic.) became the Broadway
Say It With Music - Gordon Evans - A family link to musical accompaniment in cinemas.
Through the Porthole - Peter Ricketts - A continuation of a projectionist's account of formative influences in his childhood.
A Star In Transit

Transition of the Star, Eaglehawk to community ownership.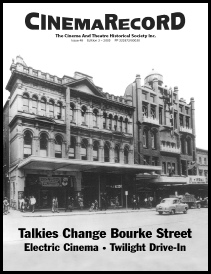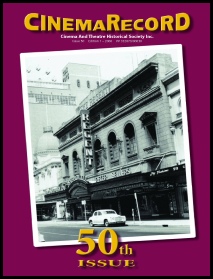 ISSUE 48
New foyers for Cinema Como (Melbourne), Boronia cinema re-opens as metro City
Essendon at the Pictures - CATHS hires the former Plaza, Essendon to show the history of going to the pictures in that municipality.
The Electric Cinema - Bill Chew - A history of the 1905 Electric on Portobello Road and its amazing incarnation as a trendy destination.
Twilight Drive-In - Michael Purden - Last night at the Twilight, Shepparton (Victoria) brings back memories
Under the Stars - Roger Secombe - Some outdoor cinemas, from Wilson's Promontory (Victoria) to Thursday Island.
Waterfall Curtains - Tony Froude - Why 'Waterfall' style was so popular in New Zealand
How the Talkies Changed Bourke Street - Bernie Halperin - Melbourne's traditional theatre district loses its cache to other streets.
Blow-Ups - Eric White - When is a 70mm film not quite the real thing? An explanation.
The Korrumburra Theatre

Gerry Kennedy, Ern Bruhn and Brian Blake. Three perspectives on a town institution.
ISSUE 49 · Edition 4 - 2005
Reels On Rails - Stories about cinemas on trains and films projected from trains.
The Regent Brisbane - Brisbane's finest theatre, comparable to the best in Australia.
The Film Exchanges by William Gray - A look behind the scenes of the exchange when prints had to be shared.
Ruby Palmer at Paramount - A snippet from 1918 about one woman's work at the Paramount exchange Melbourne.
Fair Exchange By Terry Wise - A member's memories of his time at the United Artists exchange, Melbourne.
Save Time Service By Noel Kerr - Melbourne's first do-it-all ticket agency.
Waterfall Curtains In Australia A follow-up to a story in Issue 48 on Waterfall curtains in New Zealand.
Projecting Under difficulties - Three projectionists tell stories from behind the bio-box wall.
Grandeur Australia - A comment on Fox Films' 1929 experiment with wide-screen, and how Hoyts used it in Australia.
ISSUE 50
CATHS Visits New Zealand

Report on CATHS 2005 tour of the South Island of New Zealand.

Ranking Regents Authors Brian Pearson and John Thiele discuss the best and lesser features of each of the Hoyts-Williamson family of Regent Theatres in the capital cities of Australia.
The Regent Geelong

Beating the opening of any Melbourne Regent by a few years, the Regent Geelong introduced the concept of linking superior design to the name Regent. Mike Trickett discusses the building and its history.

The Classical Legacy: Theatre in Ancient Greece

Cameron Hall explains the west's debt to ancient playrights and their architects

The Man From Paramount

In 1948 Paramount International Theaters sent Clement Crystal to report on their Australian operations. His report to a conference of the Society of Motion Picture Engineers is reprinted with some analysis of its content