CinemaRecord, our quarterly magazine contains a good mix of articles, which includes cinema histories, industry personalities, technical items, as well as photographs of theatres of the past. Each edition has a Newsreel section, which contains information on the latest happenings in the industry.
Index of CinemaRecord articles - Issue 101 - Current.
ISSUE 101
Greek Cinema in Victoria - a follow up

It's a Wonderful Life Part 2

At the Pictures in Darwin

From the Past

Eddie Vormister - Centenarian Cinema Serviceman

Capitol Theatre, Perth

Theatres of Ulverston, Tas.

The Roxy, Townsville

Effects of the Spanish Flu Pandemic

70 Years at the Flickers

Exhibition Theatre Geelong

You'll be Happier in your Hoyts Suburban Theatre

Greek Films in New Zealand - 60 Years On …

Palace of Dreams

From Singles to Doubles
ISSUE102
Watch it! You Never Know Who's Looking

Tearjerker End for Cinema Epic - The Mosman Kings

The Prince George Theatre, Brighton Vic.

It's a Wonderful Life - Part 3

Adelaide's Pavilion / Rex

A Visit to Our Regent

The Maldon "Orient Express"

The Screen News

His Majesty's Theatre, Hobart

Pathécolor - The 100+ Year Old Colour Process
Eddie Vormister Home Movies - WWII Style (part 2)
The Silver Screen - the Reardon Theatre, Port Fairy

Rupert Foyle and the Defoy Sound System

Lyric Prahran: Melbourne's First Suburban Theatre

CATHS Activities - Vic and Qld

Save the Roxy .
ISSUE 103
Broken Hill's Tivoli

Olympia Theatre Riverstone

The Capitol Te Puke

When the Kellys Rode

A Part Time Projectionist

Brisbane Arts Theatre

Shepparton's Lyric and Capri Theatres

Some Blasts From the Past

Suncorp Theatre, Brisbane

Vaudeville - You Lucky People

State Theatre, Sydney

Beaufort Theatre

Promoting the Pictures

Geelong's Cinema by the Sea - The Joy Arc
ISSUE 104
CATHS 30th Anniversary 1989 - 2019

The Theatres of Glen Innes

The Rialto, Kew

Movies on Wheels

A Giant in the Suburbs

Mount Vic Flicks

A Bundaberg Evolution

David Wayside and the Mayfair Cinema

The Travelling Picture Show Man at Yongala

The Minerva Theatre, Kings Cross (Part 1)

Theatres of Devonport

Hoyts Albury - Another Look at an Old Favourite

"P" is for Picture Bus

CATHS visit to the Capitol Theatre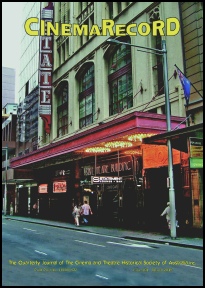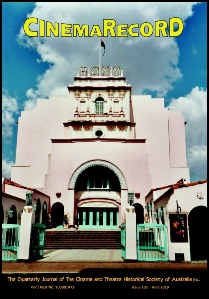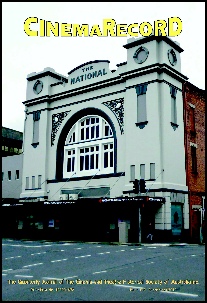 ISSUE 105
A Life in Projection

Eclipse Theatre Deepwater and Carl Wilhelm Baer

My Life in Cinema

Back in the Day

The Cairo: St Kilda's Short-lived Show

The GUO Film Exchange, Melbourne

The Theatre Cowra

The Minerva Theatre Kings Cross - Part 2

The Theatres of Victoria Park

The Theatre Royal, Geelong

The Travelling Picture show

Casterton Town Hall (Regal Theatre)

Camden Theatre Hidden and in Plain Sight

Moe's first Cinema

Altona Picture Theatre

Projection Bloopers
ISSUE 106
So You Want to Build a Drive-in

Pictures at the Port

Townsville's Olympia Open Air Theatre

Home Talent: Australia's Itinerant Filmmakers

A Career in Cinema

Prince Regent Theatre, Hamilton, Victoria

The Plaza Theatre, Chelsea

Mudgee: The Theatre that Never Was

Robert Alexander Hamilton

South Street Society's Coliseum Picture Palace

Prince Regent Theatre, Sale, Victoria

The Odeon Star Turns 100

The Kings Cross Minerva (Part 3)

The Fairsky Drive-in, Moe

One Shilling Would Buy a Ticket
ISSUE 107
Majestic Theatre, Melbourne (Part 1)

The Spool Boy

The Theatre Royal, Ballarat

Chelsea Theatre, Marryatville

My Love Affair with the Chelsea

The Burwood Drive-in

Frank Van Straten, My Fortunate Life (Part 1)

The Coming of Sound

The Cinema Church

The Powers That Be

Film Distribution in Australia

Gem Pictures – Travelling Picture Show

The Padua Theatre, Brunswick (display)
ISSUE 108
Geelong West – A Cinema in a Park

Theatre Royal, Castlemaine

Majestic Theatre Melbourne - Part Two
Frank Van Straten – My fortunate Life - Chapter 2

3D at the Movies

Drive-in Theatres of Ballarat
The Palace / Mayfair / Odeon - Palmerston North, NZ

Ararat Drill Hall / Alexander Community Centre

Grand Designers: Cowper, Murphy and Appleford

Cinema Personalities: Arthur Kishere

The Heart of the Movies

New Screen News Magazine
ISSUE 109
Pictures at St Peters

Jack Scott the Giant Slayer

The Menora Picture Gardens

The Art of Art Deco

Frank Van Straten My fortunate Life. Part 3

The Stage Turns Under History's Spotlight

My Life in Cinema

The Best by Test: Ramsgate - Sans Souci Theatre

The Sun Theatre, Geelong

The Mouse The Roared - The Orion Canley Heights

The Theatres of Red Cliffs

All Aboard The Moving Picture Train

Hoyts Plaza Theatre, Ballarat

Reimagined: 70 mm Cinema in Melbourne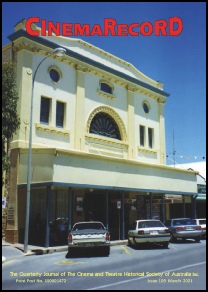 ISSUE 110
The Legacy of the Regent South Yarra

The Watermans and the Ozone Theatre Story

The Empire Theatre, Brunswick

Pictures at Cobden, Vic

Stolen: One Picture Theatre

The Theatres of Morwell, Vic

The World's First Feature Length Film

Interview: Bruce Corneil chats to Peter Smith OAM

Those Great Old Tivoli Shows

The Wendouree Centre For The Performing Arts

Filmed in Technovision

Armadale hall, WA

Advertising From the Past - Drive-in Theatres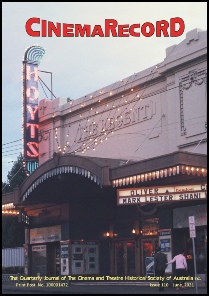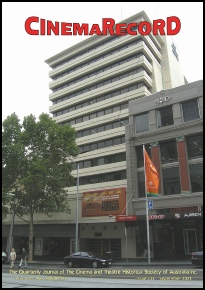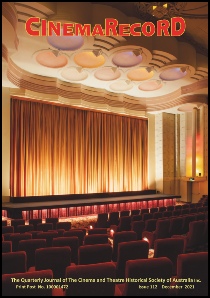 ISSUE 111
Newsreel

Letters

The Beginnings of Cinema in Melbourme

Tweed Heads & Coolangatta

Melbourne Cinema Centre

Regent Theatre, Albany WA

The Tivoli – Christchurch

Theatres of Numurkah, Vic

Celebrating 100 Years - Majestic Pomona, Qld
Australian Drive-in Theatres

First Impressions in Terrazzo

CinemaScope Advertising
ISSUE 112
The Beginnings of Cinema in Melbourne (part 2)

The Theatres of Bathurst, NSW

25 Years before Cinerama

Pictures at Orbost, Vic

New Theatre / Liberty, Rockhampton, Qld

Pictures at Greensborough, Vic

Embassy / Metro Cinema Malvern, Vic

A Remembrance of Theatres Past

Protests and Objections to Cinemas and Films

Murwillumbah's Early Cinemas (to 1945)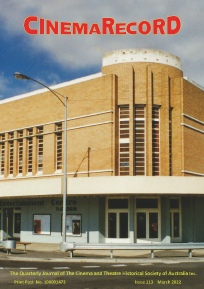 ISSUE 113
By the Light of the Silvery Screen

283 Bourke Street, Melbourne

Vale - Fred Page
Best on the Block - The Empress Prahran
A Magnificent Obsession - Vic Basham Cinema Pioneer
The Astor Ararat - Cinema of Distinction
The Palais Theatre - Sale, Victoria

The Glover Family of Sale, Victoria

Sculthorpe Pictures and the Guild Hall, Melbourne

Projection Bloopers

The Photoplayer Magazine

Paddington: The Olympia, Pallas. Mandala, Academy

Ghostly Events
ISSUE 114
The Star - Dan Clifford

7 Keys and the Rivoli Theatre, Sydney

Pictures in South Townsville

The Paramount / Regent Theatre Mordialloc

Behind the Screens

The Cameo Cinema - Belgrave Vic.

Sydney's Randwick Ritz Celebrating 85 Years

Theatres of Barcaldine Qld

The Invincible Theatres of Cunnamulla Qld

Wintergarden Theatre Rockhampton

Ararat, Vic. Town Hall Pictures
ISSUE 115
British Empire Films - A Long Way to the Top

Before the Silver Screen

The Paramount / Regent Theatre, Mordialloc, Vic.

Tales from a Country Exhibitor

Southport, Queensland

Puttin' up the Ritz (part 1)

Tolofa Samoa! Good Morning Samoa

Theatres and the Chief Secretary's Department

Early Ambush Marketing - The Redex Trial

Star Newsreel Theatrette, Melbourne

Theatres of Babinda, Queensland

Murray Bridge Drive-in, South Australia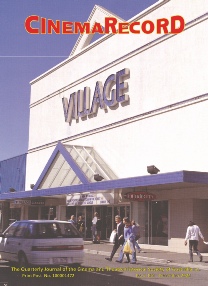 ISSUE 116
The Film Venues of Donald

The Paramount / Regent Mordialloc (part 3)

The Pictures at Montmorency, Vic

Diverse Expression: Integrated Edifice

Puttin' up the Ritz (part 2)

Gone and Forgotten: The Seddon Theatre

A War-Time Projectionist in New Guinea

A Lady of Style and Elegance

A Typical Working Day in the Life of a Projectionist

Norwood SA: Star Theatre / Odeon Star Theatre

Reflections - Electra Cinema, Boronia, Vic

Rockhampton: Earl's Court / City Centre / Southside

From the Archive: The Early Days in the Bio Box
ISSUE 117
The Theatres of Bowen, Qld (Part 1)

Wellington's Cinerama Theatre

The Warragul Theatre, Warragul, Vic

The Liberty Theatre, Leura, NSW

Otto Camphin "Czar of the Blue Mountains"

Puttin' up the Ritz (part 3)

The Journey of a Girl in the Cinema Industry

The Casterton Theatre, Vic

The Picture Man's Kid

The Plaza Theatre, Coonamble, NSW

Victoria Hall, Colac, Vic

Music and the Movies

Opening of the Rivoli Theatre, Camberwell, Vic 1940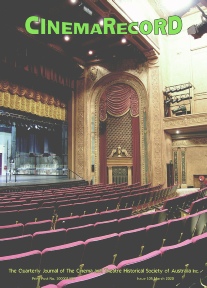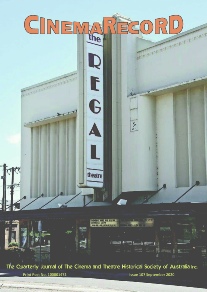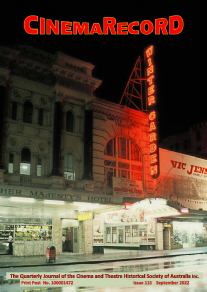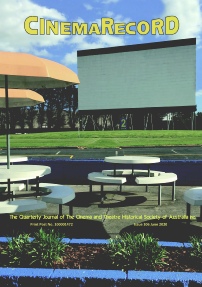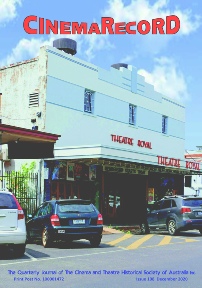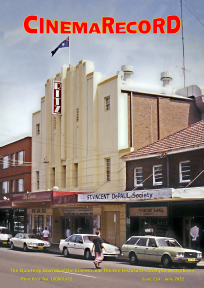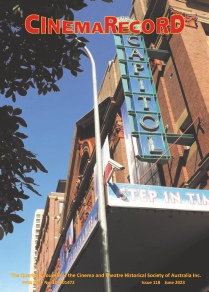 ISSUE 118
Editorial - Writing for CinemaRecord

The Waterman's Theatres in Broken Hill

The Squire of Robe

Memories of Newport

A Field Trip to Western Victoria and SA

Bridgeway Theatre, Northcote, New Zealand

The Cinemas of Nelson Bay

Theatres of Bowen, QLD (Part 2)

The Evolution of Cinema Air Conditioning

The Technical Aspects of Film Presentation