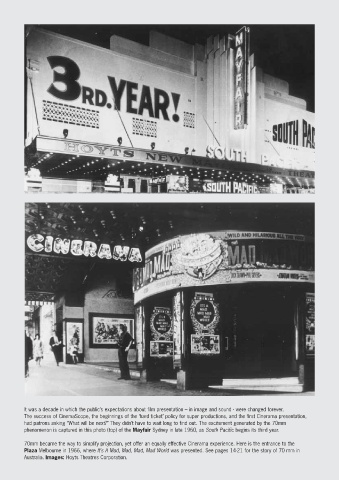 It was a decade in which the public's expectations about film presentation – in image and sound - were changed forever.
          The success of CinemaScope, the beginnings of the 'hard ticket' policy for super productions, and the first Cinerama presentation,
          had patrons asking "What will be next?" They didn't have to wait long to find out. The excitement generated by the 70mm
          phenomenon is captured in this photo (top) of the Mayfair Sydney in late 1960, as South Pacific begins its third year.

          70mm became the way to simplify projection, yet offer an equally effective Cinerama experience. Here is the entrance to the
          Plaza Melbourne in 1966, where It's A Mad, Mad, Mad, Mad World was presented. See pages 14-21 for the story of 70 mm in
          Australia. Images: Hoyts Theatres Corporation.