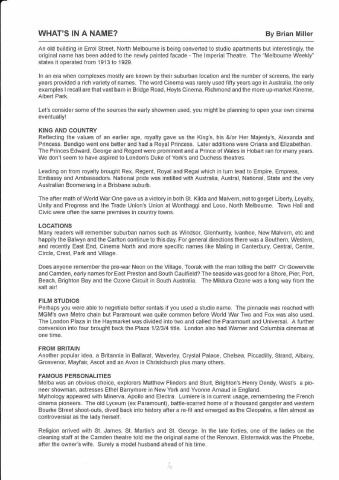 WHAT'S IN A NAME?                                                               By Brian Miller

              An old building in Errol Street, North Melbourne is being converted to studio apartments but interestingly, the
               original name has been added to the newly painted facade- The Imperial Theatre.  The "Melbourne Weekly"
               states it operated from 1913 to 1929.

               In an era when complexes mostly are known by their suburban location and the number of screens, the early
               years provided a rich variety of names.  The word Cinema was rarely used fifty years ago in Australia, the only
               examples I recall are that vast barn in Bridge Road, Hoyts Cinema, Richmond and the more up-market Kineme,
              Albert Park.

               Let's consider some of the sources the early showmen used, you might be planning to open your own cinema
               eventually!

               KING AND COUNTRY
               Reflecting the  values of an  earlier age, royalty gave us the  King's, his  &/or Her Majesty's, Alexanda  and
              Princess. Bendigo went one better and had a Royal Princess.  Later additions were Oriana and Elizabethan.
               The Princes Edward, George and Regent were prominent and a Prince of Wales in Hobart ran for many years.
               We don't seem to have aspired to London's Duke of York's and Duchess theatres.

               Leading on from royalty brought Rex, Regent, Royal and Regal which in turn lead to Empire, Empress,
              Embassy and Ambassadors. National pride was instilled with Australia, Austral, National, State and the very
              Australian Boomerang in a Brisbane suburb.

              The after math of World War One gave us a victory in both St. Kilda and Malvern, not to gorget Liberty, Loyalty,
              Unity and Progress and the Trade Union's Union at Wonthaggi and  Loco,  North Melbourne.  Town Hall and
               Civic were often the same premises in country towns.

              LOCATIONS
               Many readers will remember suburban names such as Windsor, Glenhuntly, Ivanhoe, New Malvern, etc and
              happily the Balwyn and the Carlton continue to this day. For general directions there was a Southern, Western,
               and  recently East End, Cinema  North and more specific names like Maling  in  Canterbury, Central, Centre,
               Circle, Crest, Park and Village.

              Does anyone remember the pre-war Neon on the Village, Toorak with the man tolling the bell?  Or Gowerville
               and Camden, early names for East Preston and South Caulfield? The seaside was good for a Shore, Pier, Port,
               Beach, Brighton Bay and the Ozone Circuit in South Australia.  The Mildura Ozone was a long way from the
              salt air!


              FILM STUDIOS
              Perhaps you were able to negotiate better rentals if you used a studio name.  The pinnacle was reached with
              MGM's own  Metro chain but Paramount was quite common before World War Two and Fox was also used.
               The London Plaza in the Haymarket was divided into two and called the Paramount and Universal.  A further
              conversion into four brought back the Plaza 1/2/3/4 title.  London also had Warner and Columbia cinemas at
               one time.

              FROM BRITAIN
              Another popular idea, a Britannia in Ballarat, Waverley, Crystal Palace, Chelsea, Piccadilly, Strand, Albany,
               Grosvenor, Mayfair, Ascot and an Avon in Christchurch plus many others.

              FAMOUS PERSONALITIES
              Melba was an obvious choice, explorers Matthew Flinders and Sturt, Brighton's Henry Dendy, West's  a pio·
              neer showman, actresses Ethel Barrymore in New York and Yvonne Arnaud in England.
              Mythology appeared with Minerva, Apollo and Electra.  Lumiere is in current usage, remembering the French
               cinema pioneers.  The old Lyceum (ex Paramount), battle-scarred home of a thousand gangster and western
              Bourke Street shoot-outs, dived back into history after a re-fit and emerged as the Cleopatra, a film almost as
               controversial as the lady herself.

              Religion  arrived with  St.  James,  St.  Martin's  and  St.  George. In  the  late  forties,  one  of the  ladies  on  the
               cleaning staff at the Camden theatre told me the original name of the Renown, Elsternwick was the Phoebe,
               after the owner's wife.  Surely a model husband ahead of his time.