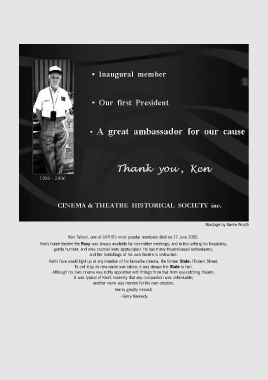 Montage by Barrie Wraith

                                Ken Tulloch, one of CATHS's most popular members died on 17 June 2006.
                   Ken's home theatre the Roxy was always available for committee meetings, and in this setting his hospitality,
                         gentle humour, and wise counsel were appreciated. He had many theatre-based enthusiasms,
                                         and the furnishings of his own theatre is instructive.
                       Ken's face would light up at any mention of his favourite cinema, the former State, Flinders Street.
                                  To call it by its new name was taboo; it was always the State to him.
                        Although his own cinema was richly appointed with fittings from that from eye-catching theatre,
                                  it was typical of Ken's modesty that any comparison was unthinkable;
                                          another name was needed for his own creation.
                                                    Ken is greatly missed.
                                                      - Gerry Kennedy.