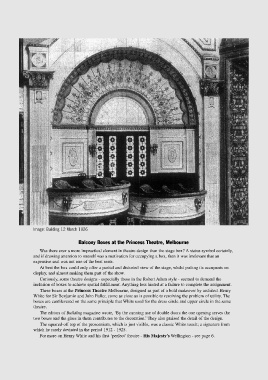 Image: Building 12 March 1926

                                    Balcony Boxes at the Princess Theatre, Melbourne

                   Was there ever a more impractical element in theatre design than the stage box? A status symbol certainly,
                and if drawing attention to oneself was a motivation for occupying a box, then it was irrelevant that an
                expensive seat was not one of the best seats.
                   At best the box could only offer a partial and distorted view of the stage, whilst putting its occupants on
                display, and almost making them part of the show.
                   Curiously, some theatre designs - especially those in the Robert Adam style - seemed to demand the
                inclusion of boxes to achieve spatial fulfillment. Anything less hinted at a failure to complete the assignment.
                   These boxes at the Princess Theatre Melbourne, designed as part of a bold makeover by architect Henry
                White for Sir Benjamin and John Fuller, come as close as is possible to resolving the problem of utility. The
                boxes are cantilevered on the same principle that White used for the dress circle and upper circle in the same
                theatre.
                   The editors of Building magazine wrote, 'By the cunning use of double doors the one opening serves the
                two boxes and the glass in them contributes to the decoration.' They also praised the detail of the design.
                   The squared-off top of the proscenium, which is just visible, was a classic White touch; a signature from
                which he rarely deviated in the period 1912 - 1925.
                   For more on Henry White and his first 'perfect' theatre - His Majesty's Wellington - see page 6.