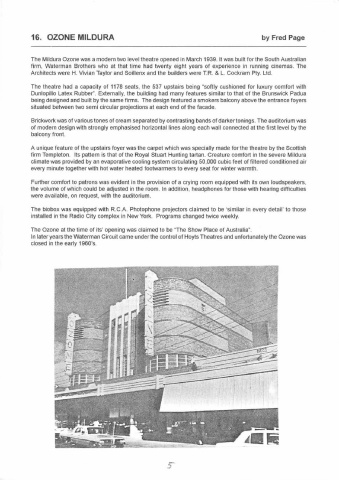 16.  OZONE MILDURA                                                               by Fred Page



            The Mildura Ozone was a modem two level theatre opened in March 1939. It was built for the South Australian
            firm, Waterman  Brothers who  at that time  had twenty  eight years of experience  in  running  cinemas. The
            Architects were H. Vivian Taylor and Soillenx and the builders were T.R. & L. Cockram Pty.  Ltd.

            The theatre had  a capacity of 1178 seats, the 537 upstairs being "softly cushioned for luxury comfort with
            Dunlopillo Latex Rubber". Externally, the building had many features similar to that of the Brunswick Padua
            being designed and built by the same firms.  The design featured a smokers balcony above the entrance foyers
            situated between two semi circular projections at each end of the facade.

            Brickwork was of various tones of cream separated by contrasting bands of darker tonings. The auditorium was
            of modem design with strongly emphasised horizontal lines along each wall connected at the first level by the
            balcony front.

            A unique feature of the upstairs foyer was the carpet which was specially made for the theatre by the Scottish
            firm Templeton.  Its pattern is that of the Royal Stuart Hunting tartan. Creature comfort in the severe Mildura
            climate was provided by an evaporative cooling system circulating 50,000 cubic feet of filtered conditioned air
            every minute together with hot water heated footwarmers to every seat for winter warmth.

            Further comfort to patrons was evident in the provision of a crying room equipped with its own loudspeakers.
            the volume of which could be adjusted in the room. In addition, headphones for those with hearing difficulties
            were available, on request, with the auditorium.

            The biobox was equipped with R.C.A.  Photophone projectors claimed to be 'similar in every detail' to those
            installed in the Radio City complex in New York.  Programs changed twice weekly.

            The Ozone at the time of its' opening was claimed to be "The Show Place of Australia".
            In later years the Waterman Circuit came under the control of Hoyts Theatres and unfortunately the Ozone was
            closed in the early 1960's.