Page 8 - CinemaRecord #11R.pdf
P. 8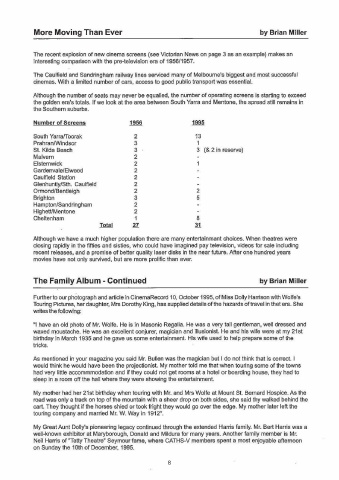 More Moving Than Ever                                                          by Brian Miller




             The recent explosion of new cinema screens (see Victorian News on page 3 as an example) makes an
             interesting comparison with the pre-television era of 1956/1957.

             The Caulfield and Sandringham railway lines serviced many of Melbourne's biggest and most successful
             cinemas. With a limited number of cars, access to good public transport was essential.
             Although the number of seats may never be equalled, the number of operating screens is starting to exceed
             the golden era's totals. If we look at the area between South Yarra and Mentone, the spread still remains in
             the Southern suburbs.
             Number of Screens


             South yarra/Toorak                 2                     13
             Prahran/Windsor                    3                     1
             St. Kilda Beach                    3                     3  (& 2 in  reserve)
             Malvern                            2
             Elsternwick                        2                     1
             Gardenvale/Eiwood                  2
             Caulfield  Station                 2
             Glenhuntly/Sth.  Caulfield         2
             Ormond/Bentleigh                   2                     2
             Brighton                           3                     5
             Hampton/Sandringham                2
             Highett/Mentone                    2
             Cheltenham                         1                     8
                                                27                   M

             Although we have a much higher population there are many entertainmant choices. When theatres were
             closing rapidly in the fifties and sisties, who could have imagined pay television, videos for sale including
             recent releases, and a promise of better quality laser disks in the near future. After one hundred years
             movies have not only survived, but are more prolific than ever.



             The Family Album .. Continued                                                  by Brian Miller


             Further to our photograph and article in CinemaRecord 1 0, October 1995, of Miss Dolly Harrison wfth Wolfe's
             Touring Pictures, her daughter, Mrs Dorothy King, has supplied details of the hazards of travel in thet era. She
             writes the following:

             "I have an old photo of Mr. Wolfe. He is in Masonic Regalia. He was a very tall gentleman, well dressed and
             waxed 111oustache. He was an excellent conjurer, magician and illusionist. He and his wife were at my 21st
             birthday in March 1935 and he gave us some entertainment. His wife used to help prepare some of the
             tricks.

             As mentioned in your magazine you said Mr.  Bullen was the magician but I do not think that is correct. I
             would think he would have been the projectionist. My mother told me that when touring some of the towns
             had very little accommmodation and if they could not get rooms at a hotel or boarding house, they had to
             sleep in a room off the hall where they were showing the entertainment.

             My mother had her 21st birthday when touring with Mr. and Mrs Wolfe at Mount St. Bernard Hospice. As the
             road was only a track on top of the mountain with a sheer drop on both sides, she said thy walked behind the
             cart. They thought if the horses shied or took fright they would go over the edge. My mother later left the
             touring company and married Mr. W. Way in 1912".

             My Great Aunt Dolly's pioneering legacy continued through the extended Harris family. Mr. Bert Harris was a
             well-known exhibitor at Maryborough, Donald and Mildura for many years. Another family member is Mr.
             Neil Harris of "Tatty Theatre" Seymour fame, where CATHS-V members spent a most enjoyable afternoon
             on Sunday the 1Oth of December, 1995.