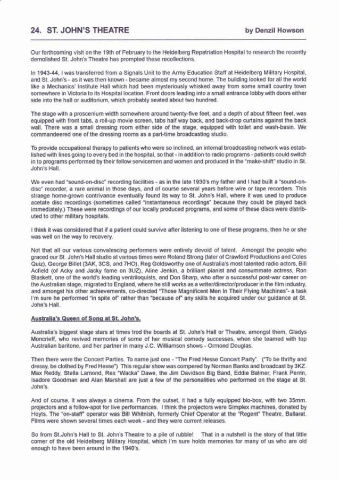 24.  ST. JOHN'S THEATRE                                                    by Denzil Howson



            Our forthcoming visit on the 19th of February to the Heidelberg Repatriation Hospital to research the recently
            demolished St. John's Theatre has prompted these recollections.

            In 194344, I was transferred from a Signals Unit to the Army Education Staff at Heidelberg Military Hospital.
            and St. John's· as It was then known · became almost my second home. The building looked for all the world
            like a Mechanics' Institute Hall which had been mysteriously whisked away  from some small country town
            somewhere In Victoria to Its Hospital location. Front doors leading into a small entrance lobby with doors either
            side into the hall or auditorium, which probably seated about two hundred.
            The stage With a proscenium Width somewhere around twenty-five feet, and a depth of about fifteen feet, was
            equipped with front tabs, a roll-up movie screen, tabs half way back, and back-drop curtains against the back
            wall. There was a small dressing room  either side of the stage, equipped with  toilet  and  wash-basin. We
            commandeered one of the dressing rooms as a part-time broadcasting studio.

            To provide occupational therapy to patients who were so inclined, an Internal broadcasting network was estab-
            lished With lines going to every bed In the hospital, so that· In addition to radio programs· patients could switch
            in to programs performed by their fellow servicemen and women and produced in the ' make-shift' studio in St.
            John's Hall.

            We even had ' sound-on-<lisc" recording facilities • as in the late 1930's my father and I had built a •sound-on-
            disc" recorder, a rare animal in those days, and of course several years before wire or tape recorders. This
            strange home-grown contrivance eventually found its way to St. John's Hall, where it was used to produce
            acetate disc recordings (sometimes called ' instantaneous recordings• because they could be played back
            Immediately.) These were recordings of our locally produced programs, and some of these discs were distrib-
            uted to other military hospitals.

            I think It was considered that if a patient could survive after listening to one of these programs, then he or she
            was well on the way to recovery.

            Not that all our various convalesclng performers were entirely devoid of talent.  Amongst the people who
            graced our St. John's Hall studio at various times were Roland Strong (later of Crawford Productions and Coles
            Quiz), George Billet (3AK, 3CS, and 7HO), Reg Goldsworthy one of Australia's most talented radio actors, Bill
            Acfield  (of Acky and Jacky fame on  3UZ), Aline Jenkin,  a brilliant pianist and consummate actress, Ron
            Blaskett, one of the world's leading ventriloquists, and Don Sharp, who after a successful post-war career on
            the Australian stage, migrated to England, where he still works as a writer/director/producer in the film industry,
            and amongst his other achievements, co-directed "Those Magnificent Men In Their Flying Machines"- a task
            I'm sure he performed "in spite of rather than 'because of any skllls he acquired under our guidance at St.
            John's Hall.

            Australia's Queen of Song at St  John's.

            Australia's biggest stage stars at times trod the boards at St. John's Hall or Theatre, amongst them, Gladys
            Moncrieff, who  revived memories of some of her musical comedy successes, when she teamed With  top
            Australian baritone. and her partner In many J.C. Williamson shows· Ormond Douglas.

            Then there were the Concert Parties. To name just one • "The Fred Hesse Concert Party".  ('To be thrifty and
            dressy, be clothed by Fred Hesse")  This regular show was compered by Norman Banks and broadcast by 3KZ.
            Max Reddy, Stella Lamond, Rex ·wacke" Dawe, the Jim Davidson Big Band, Eddie Balmer, Frank Perrin,
            Isadore Goodman and Alan Marshall are just a few of the personalities who performed on the stage  at St.
            John's.

            And of course,  it was always a cinema. From the outset,  it had a fully equipped blo-box, with two 35mm.
            projectors and a follow-spot for live performances.  I think the projectors were Simplex machines, donated by
            Hoyts. The •on-staff operator was Bill Whitnish, formerly Chief Operator at the ' Regent" Theatre, Ballarat.
            Films were shown several times each week - and they were current releases.

            So from St.John's Hall to St. John's Theatre to a pile of rubble!   That in a nutshell is the story of that little
            comer of the old Heidelberg  Military Hospital. which I'm sure holds memories for many of us who are old
            enough to have been around in the 1940's.