Page 3 - CinemaRecord #11R.pdf
P. 3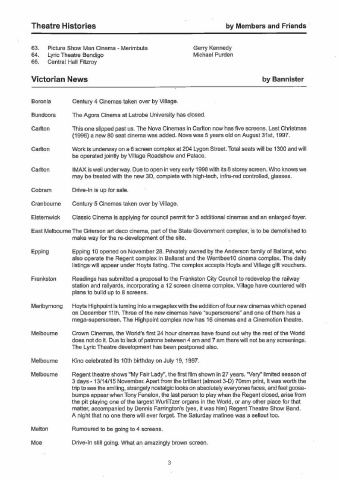 Theatre Histories                                                   by Members and Friends



            63.   Picture Show Man Cinema - Merimbula                Gerry Kennedy
            64.   Lyric Theatre Bendigo                              Michael Purden
            65.   Central Hall Fitzroy


            Victorian News                                                                   by Bannister



            Boronia       Century 4 Cinemas taken over by Village.

            Bundoora      The Agora Cinema at Latrobe University has closed.

            Carlton       This one slipped past us. The Nova Cinemas in Carlton now has five screens. Last Christmas
                          (1996} a new 80 seat cinema was added. Nova was 5 years old on August 31st, 1997.

            Carlton       Work is underway on a 6 screen complex at 204 Lygon Street. Total seats will be 1300 and will
                          be operated jointly by Village Roadshow and Palace.

            Carlton       I  MAX is well under way. Due to open in very early 1998 with its 8 storey screen. Who knows we
                          may be treated with the new 3D, complete with high-tech, infra-red controlled, glasses.

            Cob  ram      Drive-In is up for sale.

            Cranbourne    Century 5 Cinemas taken over by Village.

            Elsternwick   Classic Cinema is applying for council permit for 3 additional cinemas and an enlarged foyer.

            East Melbourne The Grierson art deco cinema, part of the State Government complex, is to be demolished to
                          make way for the re-development of the site.

            Epping        Epping 10 opened on November 28. Privately owned by the Anderson family of Ballarat, who
                          also operate the Regent complex in Ballarat and the Werribee10 cinema complex. The daily
                          listings· .wiiJ appear under Hoyts listing. The complex accepts Hoyts and Village gift vouchers.

            Frankston     Readings has submitted a proposal to the Frankston City Council to redevelop the railway
                          station and railyards, incorporating a 12 screen cinema complex. Village have countered with
                          plans to build up to 8 screens.

            Maribyrnong   Hoyts Highpoint is turning into a megaplex with the addition of four new cinemas which opened
                          on December 11th. Three of the new cinemas have "superscreens" and one of them has a
                          mega-superscreen. The Highpoint complex now has 16 cinemas and a Cinemotion theatre.

            Melbourne     Crown Cinemas, the World's first 24 hour cinemas have found out why the rest of the World
                          does not do it. Due to lack of patrons between 4 am and 7 am there will not be any screenings.
                          The Lyric Theatre development has been postponed also.

            Melbourne     Kino celebrated its 10th birthday on July 19, 1997.

            Melbourne     Regent theatre shows "My Fair Lady", the first film shown in 27 years. "Very" limited season of
                          3 days- 13/14/15 November. Apart from the brilliant (almost 3-D} 70mm print, It was worth the
                          trip to see the smiling, strangely nostalgic looks on absolutely everyones faces, and feel goose-
                          bumps appear when Tony Fenelon, the last person to play when the Regent closed, arise from
                          the pit playing one of the largest WurliTzer organs in the World, or any other place for that
                          matter, accompanied by Dennis Farrington's (yes, it was him} Regent Theatre Show Band.
                          A night that no one there will ever forget. The Saturday matinee was a sellout too.

            Melton        Rumoured to be going to 4 screens.

            Moe           Drive-In still going. What an amazingly brown screen.