Page 5 - CinemaRecord #11R.pdf
P. 5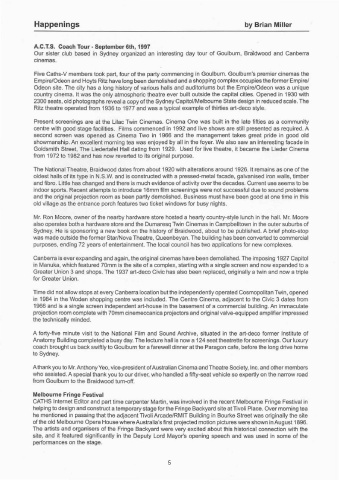 Happenings                                                                by Brian Miller



             A.C.T.S.  Coach Tour- September 6th, 1997
             Our sister club  based  in  Sydney organized  an  interesting  day tour of Goulbum,  Braidwood  and  Canberra
             cinemas.

             Five Caths-V members took part, four of the party commencing in Goulburn. Goulburn's premier cinemas the
             Empire/Odeon and Hoyts Ritz have long been demolished and a shopping complex occupies the former Empire/
             Odeon site. The city has a long history of various halls and auditoriums but the Empire/Odeon was a unique
             country cinema. It was the only atmospheric theatre ever built outside the capital cities. Opened in 1930 with
             2300 seats, old photographs reveal a copy of the Sydney Capitol/Melbourne State design in reduced scale. The
             Ritz theatre operated from 1936 to 1977 and was a typical example of thirties art-deco style.

             Present screenings are at the Lilac Twin Cinemas.  Cinema One was built in the late fifties as a  community
             centre with good stage facilities.  Films commenced in 1992 and live shows are still presented as required. A
             second  screen  was  opened  as  Cinema Two  in  1966 and  the  management takes great pride  in  good  old
             showmanship. An excellent morning tea was enjoyed by all in the foyer. We also saw an interesting facade in
             Goldsmith Street, The Liedertafel Hall dating from 1929.  Used for live theatre, it became the Lieder Cinema
             from 1972 to 1982 and has now reverted to its original purpose.

             The National Theatre, Braidwood dates from about 1920 with alterations around 1926. It remains as one of the
             oldest halls of its type in N.S.W. and is constructed with a pressed-metal facade, galvanised iron walls, timber
             and fibro. Little has changed and there is much evidence of activity over the decades. Current use seems to be
             indoor sports. Recent attempts to introduce 16mm film screenings were not successful due to sound problems
             and the original projection room as been partly demolished. Business must have been good at one time in this
             old village as the entrance porch features two ticket windows for busy nights.

             Mr. Ron Moore, owner of the nearby hardware store hosted a hearty country-style lunch in the hall. Mr. Moore
             also operates both a hardware store and the Dumaresq Twin Cinemas in Campbelltown in the outer suburbs of
             Sydney. He is sponsoring a new book on the history of Braidwood, about to be published. A brief photo-stop
             was made outside the former Star/Nova Theatre, Queenbeyan. The building has been converted to commercial
             purposes, ending 72 years of entertainment. The local council has two applications for new complexes.

             Canberra is ever expanding and again, the original cinemas have been demolished. The imposing 1927 Capitol
             in Manuka, which featured 70mm is the site of a complex, starting with a single screen and now expanded to a
             Greater Union 3 and shops. The 1937 art-deco Civic has also been replaced, originally a twin and now a triple
             for Greater Union.

             Time did not allow stops at every Canberra location but the independently operated Cosmopolitan Twin, opened
             in 1984 in the Woden shopping centre was included. The Centre Cinema, adjacent to the Civic 3 dates from
             1966 and is a single screen independent art-house in the basement of a commercial building. An immaculate
             projection room complete with 70mm cinemeccanica projectors and original valve-equipped amplifier impressed
             the technically minded.

             A forty-five minute visit to  the  National  Film  and  Sound Archive, situated  in  the art-deco former Institute of
             Anatomy Building completed a busy day. The lecture hall is now a 124 seat theatrette for screenings. Our luxury
             coach brought us back swiftly to Goulburn for a farewell dinner at the Paragon cafe, before the long drive home
             to Sydney.

            A thank you to Mr. Anthony Yeo, vice-president of Australian Cinema and Theatre Society, Inc. and other members
            who assisted. A special thank you to our driver, who handled a fifty-seat vehicle so expertly on the narrow road
            from Goulbum to the Braidwood turn-off.

             Melbourne Fringe Festival
             CATHS Internet Editor and part time carpenter Martin, was involved in the recent Melbourne Fringe Festival in
             helping to design and construct a temporary stage for the Fringe Backyard site at Tivoli Place. Over morning tea
             he mentioned in passing that the adjacent Tivoli Arcade/RMIT Building in Bourke Street was originally the site
            of the old Melbourne Opera House where Australia's first projected motion pictures were shown in August 1896.
            The artists and organisers of the  Fringe Backyard were very excited about this historical connection with the
            site, and  it featured  significantly in  the  Deputy Lord  Mayor's opening speech and was used  in  some of the
             performances on the stage.